Since the sun is finally shining in New York and Memorial Day weekend is upon us, I thought I would provide a few outdoor images for backyard inspiration.   I will be posting a lot more outdoor decorating and entertaining ideas over the Summer… but for now… Enjoy!!
This is a picture of Paris Hilton's backyard that I saw years ago–I just had to share it! ( I don't remember what magazine I originally saw it in, but luckily found the image online– if I owe a credit to anyone, please let me know)- Apparently, this house is for rent as she now has a new house that I just read about in In Style magazine.  Anyway,  I love black and white for a change for outdoor colors and I abolutely love the canopy and drapes!  The overall look is just so cool and unique!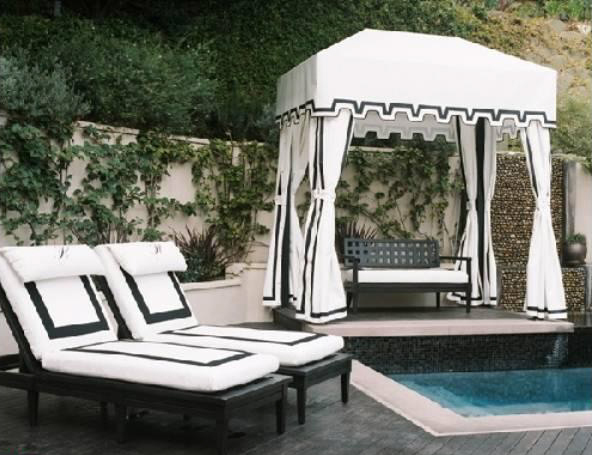 Since the Summer is only just beginnning in New York– the nights are still cool.  Thus, I am focusing on staying warm in the evenings…. There is nothing better than sitting around an outdoor fireplace on a beautiful night.  We have an outdoor fireplace and most Summer (and often Fall and Winter nights) end with making lots of S'mores!  A fireplace is a fantastic focal point for any home or backyard.
Here is Cindy Crawford and Rande Gerber's outdoor fireplace–  Isn't the entire area so inviting?  I love the colors and the seating along side the fireplace!
via Elle Decor -designed by Michael S. Smith- Photography by Pieter Estersohn
If you do not have a fireplace built in to your backyard, there are now so many (portable) options in addition to fire-pits.  Look at these great new fire tables from Restoration Hardware.  (the furniture is nice too– I am very into the gray accents!)  What a great area to gather with friends during the day or night!
As nice as it is to sit by a fireplace, I also love the warmth that these outdoor patio heaters provide on a cool Summer night.  When we go away to Cabo in Mexico where the temperature at night cools down a lot, my family and I love to sit next to these heaters at the outdoor restaurants.  We hate to go inside since we are usually escaping from a cold New York winter, so these provide us the best of both worlds– warmth and fresh air.  They are also great in a backyard when the sun goes down.  I like this one from Restoration Hardware.  You can place them all around your backyard-or just move one around!
Lastly, my favorite outdoor warm accessory is lighting and candles.  I am crazy about lights and lanterns hanging from trees, umbrellas and whatever else they can hang from– I love the mood and atmosphere they create.  Check out these mercury glass lanterns and string lights from Pottery Barn.
I have always wanted to plan an outdoor movie night– isn't this Pottery Barn scene incredible? It's actually not difficult to create something similar in your own backyard, no matter how big or small.
More outdoor ideas to come– just wanted to give you a taste of summer before the initial kick-off!  Any thoughts, let me know…
Have a great holiday weekend!
Best,
Cindy
p.s. Speaking of fire… I have to tell you about a great place to go for dinner with friends and kids, etc…  For fun nights out in the city with my kids we go to GYU-KAKU—  It is a Japanese BBQ restaurant and it is great because you cook the food yourself at your table– it is delicious, quite healthy and lots of FUN!  Each table has its own grill and you can choose what you want to cook.  Each person gets their own tongs to place and turn the food (meat, chicken, seafood, fresh vegetables etc.) and it provides entertainment and a great meal. Instead of Hibachi for a change where you are watching someone else cook– here you are your own chef.  The rice and noodle dishes are yummy too– and so are the S'Mores desserts (see I do have a theme here)….  There are two locations in New York City (Lower East Side and Midtown) and there are other locations in California, Hawaii, Illinois and Asia.  Let me know if you try it– I am curious what you think…
Our dinner last week… yummy!